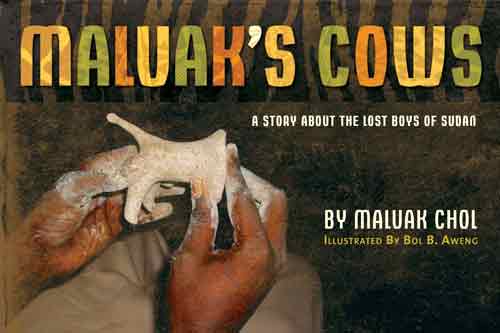 A story about the Lost Boys of Sudan
Maluak's Cows is a book about the journey of the Lost Boys of Sudan. It is written by Maluak Chol, and Illustrated by Bol B. Aweng.
Maluak's Cows is available for $15 plus shipping. Scroll down to see a preview and ordering information.
About the Book
Maluak's Cows is about a journey of hope. Between 1987 and 1989, 35,000 young boys fled their homes in Southern Sudan to escape the brutality of civil war. Maluak, one of the Lost Boys, tells his story, beginning with his tranquil life in his village and making clay cows, to hearing bullets and seeing bombs light up the sky around him as his village was attacked. This was the beginning of a journey that would take him many miles from his home. After years in refugee camps and struggles to make sense of an imperfect world, many of the Lost Boys have transformed their tragic past into an inspiring and hope-filled story for people all around the world. Join their journey of hope!
Proceeds of the sale of this book will help fund the Buckeye Clinic in South Sudan.
Order Here: