About Jok Dau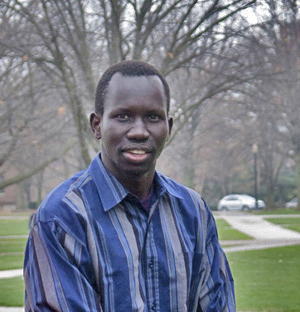 Jok Dau – Lost Boy of Sudan, who escaped a brutal civil war in Sudan between the North and South to Ethiopia at the age of six years old without parents. I spent four years in Ethiopia as a refugee in a camp. By 1991, I left Ethiopia under difficult circumstance because of its civil war. I returned to Sudan but the war situation was worse to endure and survive. Therefore, I preceded my terrible journey to Kenya to seek a protection under the United Nations High Commissioner for Refugee (UNHCR). In 1992, I arrived in Kenya where I spent ten years at Kakuma Refugee Camp. Fortunately, the United States government offered the resettlement to the Lost Boys and Girls of Sudan and I came to the United States in June, 2001. My first settlement was Nashville, Tennessee. In 2006, I moved to Columbus, Ohio, after graduating from Draughons Junior College in Computer Information Technology. In 2009, I graduated from The Ohio State University, with a major in International Studies, with a focus on International Relationship and Diplomacy, and a minor in International Economics & Social Development.
In 2005, the Sudan government and Sudan People Liberation Movement/Army (SPLM/A) signed a historic landmark Comprehensive Peace Agreement (CPA) that ended two decades of major hostility. When I learned about the CPA, I decided to visit my home village in 2007 for the first time since I left Sudan in 1987. I went to my village of Piol in Southern Sudan where the unprecedented annihilation was not a surprise to me. There I realized the issue of health as a major problem and set as a foal. I then request the people of my new nation and state to help the people of Piol to get better health services. Along with my cousin Bol Aweng we created a steering committee and start to develop the Buckeye Clinic.
After South Sudan became an independent nation in July 2001, I returned to my home country and was married. In 2013, along with Steve Walker, I traveled to my home village of Piol to arrange future plans for the Buckeye Clinic. I then decided to stay in South Sudan with my wife. I found a job with the United Nations Agency for International Development (USAID) assisting with capacity building in the Government of South Sudan Ministry of Finance where I worked until December 2013 when civil war broke out, and we were evacuated to Kenya. I returned to Juba with the USAID office reopened and worked there until the program was defunded in 2014.
In 2017, I worked with the Piol Village Health Committee, community Chiefs, and the Buckeye Clinic staff to discuss how to upgrade the Buckeye Clinic from a Primary Health Care Unit (PHCU) to a Primary Health Care Center (PHCC) that could provide better health services to the community.
In February of 2018 when Bol Aweng, Co-Founder, and Steve Walker, Clinic President, returned to South Sudan for a visit, I led several important meetings with high profile government officials in the national and state levels to discuss the upgrading the Clinic. After many other meetings, the Minister of Health accepted the proposal for the upgrade and on March 13, 2018, signed a Ministerial Order. I delivered copies of the Ministerial Order to related agencies that enabled the official opening of the Patiou Primary Health Care Center (PHCC). We had a wonderful opening attended by many Chiefs and the Twic East community members, government officials and a United Nations representative.
I continue to live in Juba, South Sudan, with my sons and wife. From this locale, I am able to provide on-the-ground assistance to the Clinic and to work closely with the Buckeye Clinic Board in Columbus, Ohio.