Need A Speaker?
Looking for a speaker for a program?
In exchange for a donation to the Buckeye Clinic, Bol Aweng, Steve Walker, or members of the Buckeye Clinic Board are available to present a program to school (all grade levels), church groups, community organizations, or service clubs. Programs are tailored to each group and can include a video, a power-point presentation, or a display. Programs can focus on:
The story of the Lost Boys of Sudan.
The current social and political situation in SouthSudan.
The need for more medical services in South Sudan.
Donations to the Buckeye Clinic are appreciated for these presentations.
E-mail us at: speaker@buckeyeclinic.org for more information or to schedule a speaker.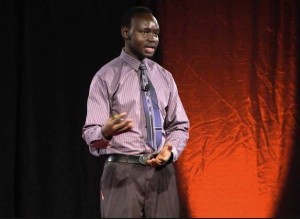 Bol Aweng's Speaker service:
Bol Aweng is available to speak to organizations and universities. Speaker's fees are negotiable determining on the location and size of the group.
Bol has been the keynote speaker at:
Ohio Teachers of English to Speakers of Other Languages (TESOL)
The Ohio State University
Bowling Green State University
University of Cincinnati
Miami University, Middletown Campus
University of Wisconsin Barron County
Henry Clay High School, Lexington, KY
Ellsworth Hill Second Grade School, Hudson, Ohio
Westerville Central High School
Raritan Valley Community College in Central New Jersey
Check out Bol's TEDx Keynote Presentation here!