Thank you to all who contributed to our Famine Relief Fund Drive since the first of the year.
We are pleased to report that thanks to your generosity, we were able to deliver 12,000 pounds of food to the village of Piol, and we have sent additional funds for the purchase of seeds and fuel for a government-supplied tractor to prepare fields for planting.
The back-story is quite complicated, and it will give you a window into how challenging it was to make this and other food deliveries.
Once we wire money to Buckeye Clinic co-founder Jok Dau in Juba, he contacts James Magok, our contact at the Jonglei State Ministry of Health, to arrange the purchase of food in Bor, the closest city to Piol.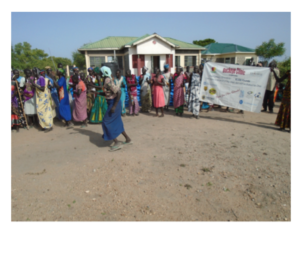 James happened to be in Juba and could not return to Bor by land to coordinate the purchase and delivery because an attack on the Juba-Bor road that left 31 people dead and many more injured closed the route for three weeks. The Clinic Board decided to buy him an airline ticket to make the trip. Once back in Bor, James discovered that the road closure meant that few goods were being delivered from the capital Juba to Bor. As a result, food supplies were slim and very expensive.
James decided to wait to purchase food until convoys of delivery trucks escorted by the military could reach Bor. When the prices lowered some, he purchased the food. But shortages in the markets coupled with a worsening exchange rate meant that the $8,000 we sent covered the cost of 12% less food than recent purchases.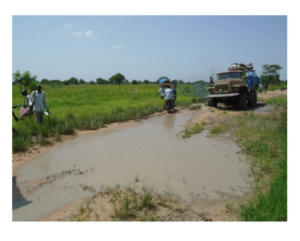 Nothing is easy in South Sudan. The rainy season has begun, and it took all day to get the truck from Bor to Piol, a distance of 55 miles on a rutty, muddy dirt road. The truck became stuck once for many hours until another truck was able to pull it out. You can see James, who always accompanies the deliveries, patiently standing near the truck in the accompanying photos. But with the help of good people like Jok and James there, this was all possible. And the faces of the women at the Clinic grounds dancing to celebrate as they are about to receive the food says volumes about how critical our food aid is for this village— and how greatly it is appreciated.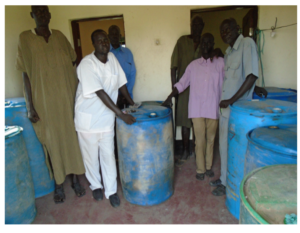 Efforts to support sustainable farming in Piol. In addition to sending $8000 for food, we were able to wire $7100 an essential step in helping the villagers become self-sufficient. James Magok reported on June 22 that seeds for individual family gardens—okra, corn, cabbage, cowpeas, and onions—were distributed to individual households on June 9, and they have already been planted. Fifteen 55-gallon drums of diesel fuel were delivered to the Buckeye Clinic for use in the tractors for cultivating. The ground is still too hard to plow, but the rains will soften it, and the villagers will soon to cultivate and plant of over 100 hectares — 250 acres—of corn and sorghum.
The real food crisis persists. The price of food continues to rise, and people cannot afford to buy food even when it is available. When Jok changed the US dollars in June, he found that the exchange rate had increased from 101 in February, to 150 South Sudanese Pounds (SSP) per dollar. Because the price of food increases as the SSP exchange rate increases, food prices were much higher. That and the scarcity of food caused food prices to increase dramatically —rice 89%, beans 69%, sugar 41%, salt 120%, and soap 300%—all within less than three months.
Since the Buckeye Clinic began delivering food aid in April 2014, prices have increased astronomically.
A 25-kg bag of rice was 230 SSP and is now 4,500 SSP.
50kg of beans was 170 SSP; it is 11,000 SSP.
50 kg of sugar has risen from 200 SSP to 9,000 SSP.
A 25-kg bag of salt was 45 SSP; it is now 5,500 SSP.
Vegetable oil (21 liter can) that was 150 SSP now costs 5,500 SSP.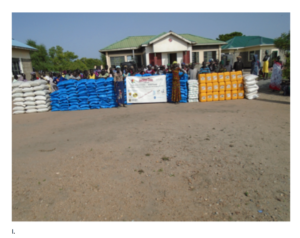 Increases of this magnitude make clear why the United Nations declared that 4.9 million people in South Sudan—almost half the population of the country—are food insecure. They do not know where their next meal will come from.
The Buckeye Clinic in South Sudan remains committed to providing food aid until the food shortages are eased and the villagers are able to resume the subsistence farming that sustained them prior to the civil war. We are grateful for your continued support of our efforts.
Thank you.
[ngg_images source="galleries" container_ids="6″ display_type="photocrati-nextgen_basic_thumbnails" override_thumbnail_settings="0″ thumbnail_width="240″ thumbnail_height="160″ thumbnail_crop="1″ images_per_page="20″ number_of_columns="0″ ajax_pagination="0″ show_all_in_lightbox="0″ use_imagebrowser_effect="0″ show_slideshow_link="1″ slideshow_link_text="[Show slideshow]" order_by="sortorder" order_direction="ASC" returns="included" maximum_entity_count="500″]